Recipes for Anti-Bloating Soups
Enjoy these savory anti-bloating soups. They are call for some of the best bloating-fighting foods including, nettles, beets, ginger and probiotic yogurt.
Beet and Carrot Soup
Serves 4
Beets are an excellent source of potassium, a mineral that counterbalances sodium. The body needs sodium, or table salt, in small quantities but excessive amounts of sodium cause water retention and bloating. The fresh ginger in this beautiful crimson soup is an age-old remedy for bloating.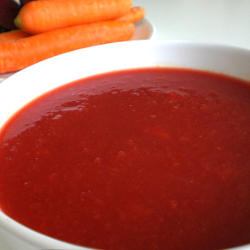 Ingredients
3 medium beets, peeled and diced
1 tbsp canola oil
1 cup onion, chopped
1 pound carrots, diced
1 tbsp fresh ginger, minced
1 garlic clove, minced
1.4 litres (6 U.S. cups)
vegetable stock
Directions
Heat oil in a large saucepan over medium heat. Sauté onion until golden brown. Add ginger and garlic and cook for 2 minutes, stirring frequently.
Add beets, carrots, and stock. Reduce heat to low and simmer covered until beets and carrots are tender, about 25 minutes.
In a food processor, purée soup in batches. Taste soup and adjust seasonings.
Serve hot or cold, garnished with cilantro leaves.
Nourishing Nettle Soup
4 servings
Nettle with its diuretic properties is great for beating the bloat caused by water retention. Also yoghurt—which is used to garnish this intriguing jade green soup—is beneficial as it contains probiotic bacteria which aid digestion and fight the overgrowth of harmful bacteria, thereby preventing bloating. Increasing your intake of probiotic bacteria may be particularly helpful if you have recently been taking an antibiotic medication as antibiotics are known to destroy the healthy flora in the intestines. Ingredients
6 oz young nettle tips
4 oz fresh spinach
2 tbsp olive oil
2 shallots, chopped
2 cups water
2 cups skimmed organic milk
3 tbsp flour
Dash of ground white pepper
Dash of ground nutmeg
Salt to taste
Yoghurt containing probiotic bacteria, for garnish
Directions
Wash nettle and spinach thoroughly. Drain and chop coarsely.
Heat olive oil and sauté onion in a large saucepan until golden brown.
Add water, nettle, and spinach, and bring to a boil. Cook until nettle and spinach are tender. Blend with a hand held blender until smooth.
Whisk cold milk and flour together in a small bowl. Pour into saucepan and whisk to blend thoroughly.
Bring to a boil and simmer for a few minutes, until thickened. Season with salt, white pepper, and nutmeg. Remove from heat.
Pour soup into serving bowls and garnish with a swirl of yoghurt. Serve.
Note: As nettles are rich in nitrates, they should not be consumed by young children, people with gout, or other people with a condition that requires a low-nitrate diet.
Want More Anti-Bloating Recipes?
For more recipes that can help you control bloating, visit the main recipe directory of this Guide to Beating Bloating.
For more information about nutrition and bloating, check out How to Reduce a Bloated Stomach Naturally (the home page of this anti-bloat guide). Be also sure to take a look at our collection of the best anti-bloat diet tips as well as the food section (Best Foods for Reducing Bloating) of this guide.