Drink Recipes for Fighting Bruising
Wondering how to mix luscious smoothies and other drinks that are also in line with the nutritional requirements of people who are prone to excessive bruising? This section presents a bunch of anti-bruising drink recipes that rely on ingredients that offer copious amounts of bruising-fighting nutrients. Bon appetit!
Tip: Before you unleash the culinary genius in you and peruse the drink recipes below, you might want to check out the page Anti-Bruise Diet Tips and the page Foods That Reduce Bruising.
Melon and Green Tea Smoothie
4 servings
This melon and green tea smoothie is ideal for hot summer days. But it is also a wonderful drink for people who bruise easily as it provides tons of vitamin C and a good amount of vitamin K, too.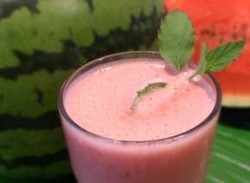 Ingredients
1 1/2 cups honeydew melon, seeded and chopped
1 1/2 cups watermelon, seeded and chopped
1 cup nonfat yoghurt containing probiotic bacteria, cold
1/2 cup brewed green tea, chilled
1 tbsp fresh mint, minced
Lemon juice, freshly pressed

Directions
Combine all ingredients in a blender or food processor and process until creamy. Garnish as desired. Serve in tall glasses.
Hot Chocolate with Almond Milk
Serves 2
Dark, unsweetened cocoa powder contains significant amounts of flavonoids such as catechins and procyanidins. Flavonoids have been shown to possess properties that help control bruising. However, the flavonoids lose much of their power if cocoa is consumed together with dairy. In order to maximize the health benefits of cocoa, this hot chocolate is made with almond milk instead of cow's milk. Ingredients
5 tbsp brown sugar
3 tbsp dark, unsweetened cocoa powder
2 cups unsweetened
almond milk
1/2 tsp vanilla extract
Directions
Combine sugar and cocoa in a small saucepan. Whisk in almond milk. Warm over medium heat, stirring constantly, until hot. Do not boil. Remove from heat and add vanilla. Serve hot.
Did you know?
Some almond milk manufacturers use sweeteners and additives in their products, so read the labels carefully! An excellent alternative to buying almond milk is to make your own almond milk at home. It might sound like a lot of work, but it is in fact a cinch to prepare. Click here to learn how to make your own almond milk.
Scandinavian Blueberry Soup (Blåbärssoppa)
Serves 3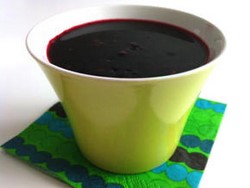 Ingredients
4 cups blueberries
2 cup water
1/2 cup sugar
4 tbsp potato starch

Directions
Place blueberries, sugar, and water into a saucepan and bring to a boil. Mix potato starch with a few drops of cold water and stir into blueberry mixture. Continue stirring over low heat until soup thickens. Pour into a serving dish and serve immediately. Alternatively, you can sprinkle soup with a bit of sugar, cool it in the fridge, and serve chilled.
Want More Recipes?
For more recipes that can help you control bruising of the skin, visit the main recipe directory of the Guide to Preventing Bruising.
For more general information on bruising and nutrition, check out the page Natural Food Remedies to Prevent Excessive Bruising (the home page of this Guide) as well as the section Diet Tips for People Who Bruise Easily. Be also sure to check out the list of Healing Foods That Reduce Bruising.