Salad Recipes for Fighting Bruising
Wondering how to rustle up delicious salads that also fulfil the nutritional requirements of people who tend to bruise easily? This section presents a repertoire of anti-bruising salad recipes that call for ingredients that deliver copious amounts of bruising-fighting nutrients. Enjoy!
Tip: Before you unleash the culinary genius in you and check out the recipes below, you might want to have a look at the page presenting the best diet tips for people who bruise easily and the list of the best foods for reducingexcessive bruising.
Carrot Fennel Cucumber Salad
4 servings
This summery salad works like magic to soothe the soul—and bruised skin. The anti-bruising effects of this salad are largely due to the vitamin C and vitamin K found in this refreshing salad.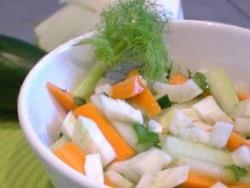 Ingredients
6 organic carrots, thinly sliced
1 fennel bulb, thinly sliced
1 cucumber, thinly sliced
1 cup fresh parsley, chopped
4 Tbsp freshly squeezed lemon juice
2 Tbsp canola oil
Sea salt
Freshly ground black pepper

Directions
Combine carrots, fennel, cucumber, and parsley in a large bowl. Mix lemon juice, canola oil, salt, and pepper in a container with a securable lid. Tighten lid and shake. Pour dressing over salad and toss gently.
Arugula, Avocado and Tomato Salad
4 servings
Avocados and tomatoes store a goldmine of vitamin C and vitamin K, two important vitamins for reducing bruising.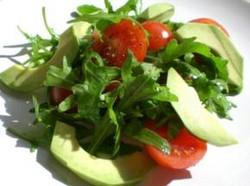 Ingredients
3 cups young arugula leaves, rinsed
2 cups cherry tomatoes, halved
1/4 cup sun-dried tomatoes, chopped
2 tablespoons extra virgin olive oil
1 tablespoon balsamic vinegar
2 small avocados, peeled, pitted and sliced

Directions
In a large plastic bowl with a lid, combine arugula, cherry tomatoes, sun-dried tomatoes, olive oil, and vinegar. Toss well. Divide onto plates, and top each serving with slices of avocado.
Super-Nutritious Broccoli Salad with Apples and Cranberries
6 servings
Broccoli is loaded with vitamin C and vitamin K, making this salad an excellent choice for people who bruise easily.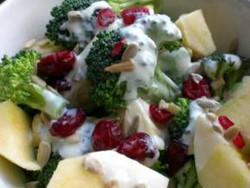 Ingredients
4 cups fresh broccoli florets
1/2 cup dried cranberries
1/2 cup sunflower seeds
3 organic apples
1/4 cup red onion, chopped
1 cup plain, low-fat yoghurt with probiotic bacteria
2 Tbsp Dijon style mustard
1/4 cup honey

Directions
Combine broccoli florets, dried cranberries, sunflower seeds, chopped apples, and chopped onion in a large serving bowl. Blend yoghurt, mustard, and honey in a small bowl. Add dressing to the salad and toss. Chill before serving.
Carrot and Avocado Salad
2 servings
Both avocados and tomatoes pack vitamin C and vitamin K, a stellar vitamin combo for fighting bruising.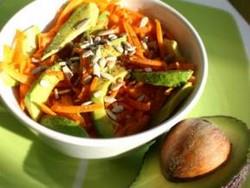 Ingredients
1 large avocado, peeled, pitted and diced
4 medium carrots, peeled and grated
Dash of balsamic vinegar
Sunflower seeds, to taste
Salt and freshly ground pepper, to taste

Directions
Combine avocado and grated carrots in a medium salad bowl. Sprinkle with sunflower seeds, salt, pepper, and balsamic vinegar. Cover and refrigerate for at least 20 minutes before serving.
Want More Anti-Bruising Recipes?
For more recipes that can help fight bruising, visit the main recipe directory of the Guide to Preventing Bruising.
For more general information on bruising and nutrition, check out the page Natural Food Remedies to Prevent Excessive Bruising (the home page of this Guide) as well as the section Diet Tips for People Who Bruise Easily. Be also sure to check out the list of Healing Foods That Reduce Bruising.