Hives Fighting Nettle Tea and Other Drink Recipes for People with Hives
Many people who suffer from hives (urticaria) experience outbreaks after drinking caffeine-containing or alcoholic beverages. However, there are plenty of drinks, such as stinging nettle that, that are generally safe for people with hives. The below drink recipes are designed to prevent symptoms associated with chronic hives. For additional hives fighting recipes, check out the main recipe directory of this Nutrition Guide to Combatting Hives.
How to Make Nettle Tea (Step-by-Step Instructions)
While stinging nettle produces pollen that may cause allergic reactions in some people, it also blocks histamine when ingested. This is why practitioners of herbal medicine and people who suffer from chronic hives praise stinging nettle as one of the best natural weapons against hives (urticaria). One of the best ways to benefit from the hives fighting effects of this extraordinary herb is to make nettle tea from young nettle tops. Use the following step-by-step instructions: Ingredients
Young leaves of stinging nettle
Water
Directions
Start by picking small, young nettles. Use sciccors and gloves to prevent stinging.
Wash the nettles carefully to get rid of any soil or dirt.
Put the nettles in a pot and add enough water to cover them. Boil until the water turns green.
Remove the nettles and enjoy a cup of hives fighting nettle tea immediately.
Raspberry-Banana Smoothie Recipe
2 servings
This super healthy, hives preventing drink is free of dairy, caffeine, alcohol, and gluten. Instead, it is loaded with hives fighting nutrients such as vitamin C and quercetin. The raspberries and ground flaxseed in this recipe provide plenty of anti-inflammatory omega-3 fatty acids.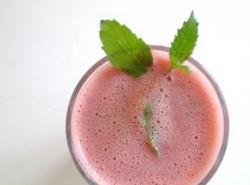 Ingredients
1 cup fresh raspberries
1 ripe banana, sliced and frozen
1 cup rice milk
1 Tbsp flaxseed, freshly ground
Directions
Combine all ingredients in a blender or food processor and process until smooth.
Garnish as desired. Serve immediately.
More Hives Fighting Recipes: