Anti-Stress Broccoli Salad and Other Recipes for Hives Sufferers
Hives has been linked to emotional stress in many chronic hives sufferers. The salad recipes below have been designed to relieve allergic symptoms in hives sufferers. They draw on the anti-stress, anti-inflammatory, and antihistamine properties of foods like fennel, carrots, broccoli, mint, onions, honey and ginger.
Carrot Fennel Cucumber Salad
4 servings
Provided that you're not allergic to citrus, this light salad works like magic to soothe your soul — and skin. The hives fighting properties of this salad are linked to the anti-inflammatory nutrients found in this salad, including rosmarinic acid, omega-3 fatty acids, and vitamin C.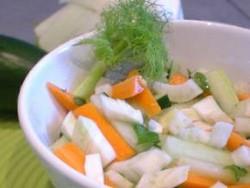 Ingredients
6 organic carrots, thinly sliced
1 fennel bulb, thinly sliced
1 cucumber, thinly sliced
1/2 cup fresh mint, chopped
4 Tbsp freshly squeezed lemon juice
2 Tbsp canola oil
Directions
Combine carrots, fennel, cucumber, and mint in a large bowl.
Mix lemon juice and canola oil in a container with a securable lid. Tighten lid and shake.
Pour dressing over salad and toss gently.
Anti-Stress Broccoli Salad for Hives Relief
6 servings
This healthy anti-stress salad is chock-full of stress fighting nutrients including as B complex vitamins and vitamin C. It is also packed with the anti-hives nutrient quercetin as it contains two foods that are among the best dietary sources of quercetin: apples and red onions. In addition, this salad contains some omega-3 fatty acids (provided by the broccoli). Note: this recipe contains dairy, so you might want to try another salad recipe on this page if your hives symptoms have been linked to dairy consumption.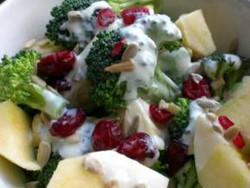 Ingredients
4 cups fresh broccoli florets
1/2 cup dried cranberries
1/2 cup sunflower seeds
3 organic apples
1/4 cup red onion, chopped
1 cup plain, low-fat yoghurt with probiotic bacteria
2 Tbsp Dijon style mustard
1/4 cup honey
Directions
Combine broccoli florets, dried cranberries, sunflower seeds, chopped apples, and chopped onion in a large serving bowl. Blend yoghurt, mustard, and honey in a small bowl.
Add dressing to the salad and toss. Chill before serving.
Beet and Carrot Salad with Ginger
Serves 1
This recipe pairs two powerful root vegetables to create an excellent natural remedy for fighting hives. Beets have strong anti-inflammatory properties while carrots are known for their antioxidant powers. The ginger featured in this appetizing salad recipe contains zingibain, a type of proteolytic enzyme. Scientists have shown that proteolytic enzymes have anti-inflammatory properties and can help reduce allergic reactions. In addition, ginger has a long history as a natural anti-stress remedy.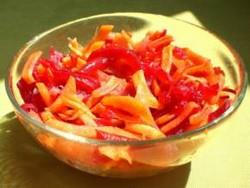 Ingredients
1/2 cup raw beets, peeled and grated
1/2 cup organic carrots, grated
2 tbsp apple juice
1 tbsp extra-virgin olive oil
1/2 tsp fresh ginger, minced
1/8 tsp sea salt
Directions
Combine grated beets and carrots in a small bowl.
Mix apple juice, olive oil, ginger, and salt in a separate bowl and drizzle over salad mixture. Toss gently. Enjoy!
Chicken and Apple Salad
Serves 4
This anti-hives salad recipe pairs tasty chicken with luscious grapes and apples to create an amazing culinary sensation. Chicken, apples, and grapes rarely cause allergic reactions, so this salad is also well suited for most people who suffer from hives. In addition, apples are crammed with quercetin — a bioflavonoid that has been shown to effectively protect against allergic reactions. Quercetin works by preventing histamine release from mast cells. Hives symptoms are produced when histamine, along with other allergy-triggering compounds, are released from mast cells. Ingredients
3 cups cooked chicken, diced
1 cup grapes, halved
1/2 cup celery, diced
3 tbsp red onion, finely chopped
1/2 cup organic apples, diced
6 tbsp extra light mayonnaise
2 tsp lemon juice
Salt and pepper, to taste
Lettuce leaves
Directions
Combine first five ingredients in a large bowl.
In a small bowl, combine mayonnaise, lemon juice, and salt and pepper. Stir into chicken mix.
Arrange lettuce leaves on serving plates and top with chicken salad.
More Hives Fighting Recipes: