Recipe
Simple Sweet Potato and Ginger Soup
6-8 servings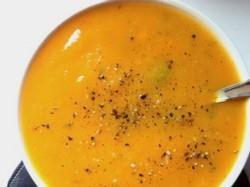 Ingredients
1 Tbsp olive oil
2 medium yellow onions, chopped
3 large sweet potatoes (pink, orange, or yellow variety), peeled and chopped
1 inch piece fresh ginger, peeled and finely chopped
6 cups low-sodium vegetable broth
Salt and pepper, to taste
Directions
Heat oil in a medium saucepan over medium heat. Add onions and sauté until golden.
Pour in the broth and bring to boil over medium-high heat. Add sweet potatoes and ginger, and reduce heat to medium-low. Simmer until sweet potatoes are easily pierced with a fork (about 20 to 25 minutes).
Working in batches, purée soup in a blender or use an immersible hand blender to blend soup until smooth. Season with salt and pepper to taste. Serve hot.