Vegan Wild Garlic Pesto
This new take on the classic pesto pairs basil with wild garlic (also known as bear's garlic) with walnuts and extra virgin olive oil. Wild garlic leaves are supercharged with allicin, the same compound that is responsible for the health benefits of common garlic. The walnuts in this recipe provide plenty of anti-inflammatory omega-3 fatty acids.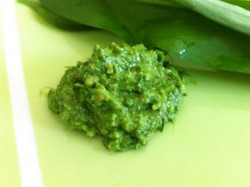 Ingredients
120g walnuts
175ml (3/4 US cups) extra virgin olive oil
40g fresh basil leaves
30g freshly picked wild garlic leaves
2 Tbsp lemon juice
1 Tbsp white wine vinegar
1/2 tsp agave syrup
Salt and freshly ground black pepper
Directions
Crush the walnuts roughly using a food processor or a pestle and mortar, then remove the mixture and set aside.
Puree the wild garlic leaves and basil leaves with olive oil and a pinch of salt and pepper. Add the lemon juice, white wine vinegar, and agave syrup and mix well.
Add the crushed walnuts to the wild garlic and basil mixture and stir well. Taste the pesto and add salt and pepper, if necessary.
Serve your vegan wild garlic and basil pesto with crisp bread, as a dip for vegetables, or as a pasta sauce.