Recipe
Wholewheat Muffins with Bananas and Walnuts
Makes 6-8 muffins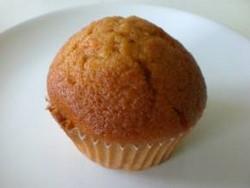 Ingredients
1 cup whole wheat flour
1/3 cup brown sugar
1/2 tsp baking powder
2/3 cup walnuts, chopped
1/4 tsp salt
2 medium bananas, sliced
1/4 cup almond milk
1 egg, lightly beaten
Directions
Preheat oven to 350°F (175°C, gas 4).
Combine flour, sugar, baking powder, walnuts, and salt. In a separate bowl, mash bananas with a fork.
Add egg and almond milk to banana mixture, then combine dry and wet ingredients. Pour batter into a non-stick muffin pan.
Bake for 30-40 minutes, then transfer muffins to a cooling rack. Serve warm.