Curcumin in Turmeric Fights Depression, Study Shows
In July 2013, a group of researchers from India published an interesting study on curcumin in the journal Phytotherapy Research. The aim of the study was to compare the efficacy and safety of curcumin versus the anti-depressant drug fluoxetine (Prozac) in patients diagnosed with major depressive disorder (MDD). The results of the study were astounding: curcumin, a phytochemical extracted from the turmeric root, had anti-depressant effects comparable to those of Prozac, a common drug used to treat depression and related disorders. Keep reading to get the full scoop on this groundbreaking study.
Study Set-Up and Results
Sixty patients diagnosed with major depressive disorder (MDD) were randomized to receive either fluoxetine (Prozac) or curcumin, or a combination of these two substances. During the six-week study period, the efficacy of each the three treatments was evaluated using the 17-Item Hamilton Depression Rating Scale (HAM-D17), a standardized questionnaire that researchers across the world use to measure the intensity or severity of depression.
The mean change in the HAM-D17 score at the end of the six week trial period was comparable in all three groups. The researchers also observed that curcumin was well tolerated by all study participants, which confirms the findings of previous studies that have evaluated the safety of curcumin supplements and/or turmeric.
The Problem with Prozac
The lack of side effects associated with curcumin intake is precisely what makes curcumin and turmeric such interesting, potential alternatives to anti-depressant drugs which often have side effects. Prozac, for example, has been associated with side effects like anxiety, sweating, nervousness, insomnia, sinus irritation, indigestion, skin rash, and diarrhea.
Previous Studies on the Anti-Depressant Effects of Curcumin
The study published in the journal Phytotherapy Research is not the first study suggesting that curcumin and turmeric may have anti-depressant effects. A study published in the July 2005 edition of the European Journal of Pharmacology found that curcumin had anti-depressant effects in mice and that these effects involved the central monoaminergic neurotransmitter systems of the mice. Another study, published in the December 2008 issue of the journal Psychopharmacology, showed that co-administration of piperine along with curcumin may boost the anti-depressant effects of curcumin. Also other studies have reported that piperine, a naturally occurring compound responsible for the pungency of black pepper, can help boost the health effects of curcumin. (For more on this, read the in-depth article on the effects of black pepper on turmeric bioavailability.
Book You May Like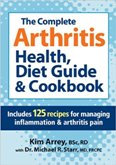 This science-based all-in-one guide by registered dietitian Kim Arrey and practising rheumatologist Dr. Michael Starr explains how specific medications, nutritional supplements, foods, and lifestyle factors affect the pain and inflammation associated with rheumatoid arthritis. Packed with invaluable tips and tasty anti-inflammatory recipes and sample menus,
this meticulously-researched guide and cookbook is a must-have for all RA-sufferers
. Available from
Amazon
.