De-Bloating Breakfast Recipes
Ready to learn how to make delicious breakfast dishes that can also help prevent bloating and gas? In this section, you'll find a bunch of easy-to-make breakfast recipes that use foods with de-bloating properties.
Carrot Muffins
Yields 12 muffins
These scrumptious muffins are gluten-free and therefore suitable for people who experience bloating caused by gluten intolerance. The flaxseed featured in these muffins promotes healthy bowel function.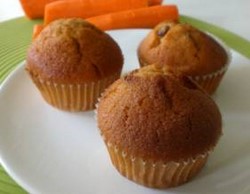 Ingredients
1 egg
1 cup rice milk
4 tbsp canola oil
2 cups quinoa flour or other gluten-free flour
1 tsp guar gum
1 tbsp flaxseed meal
3 1/2 tsp gluten-free baking powder
1/2 tsp salt
1 tsp cinnamon
1/4 cup brown sugar
1 cup
organic carrots
, grated
1/4 cup raisins
Directions
Preheat oven to 400 degrees F (200 degrees C, gas mark 6)
Beat together egg, rice milk, and canola oil. Combine dry ingredients in a separate bowl.
Add liquid ingredients to dry ingredients and mix until just blended (do not over-mix). Fold in grated carrots and raisins.
Fill 12 paper muffin cups with batter (about two thirds full). Bake for 20 minutes.
Oat and Banana Muesli
4 servings
Too high an intake of salt is one of the most common causes of water retention around the abdominal area. Foods rich in potassium, such as this breakfast muesli, help combat bloating caused by salty foods. While salt attracts fluid into the cells, potassium drives water molecules out of the cells. Ingredients
1 1/2 cups rolled oats
1/2 cup popped rice
2 tsp ground cinnamon
1/2 cup organic apples, diced
1 1/2 cups ripe bananas, sliced
3 tbsp brown sugar
Rice milk to serve
Directions
Preheat oven to 325°F (160°C, gas 3).
Mix oats, sugar, and cinnamon in a bowl. Spread mixture evenly onto a non-stick baking tray.
Toast oat mixture in preheated oven for about 10 minutes, stirring occasionally. Watch mixture very closely when toasting as it can burn very easily.
Remove from oven and let cool. Pour into a large bowl and stir in popped rice.
Divide mixture into serving bowls and top with banana slices and apples. Serve with rice milk.
Wholewheat Muffins with Bananas and Walnuts
Makes 6-8 muffins
Not only are these whole wheat muffins full of flavor, they are also packed with potassium, the ultimate anti-bloating mineral. As an added bonus, these muffins are rich in antioxidants.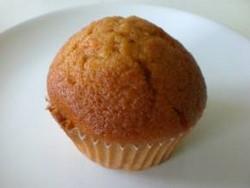 Ingredients
1 cup whole wheat flour
1/3 cup brown sugar
1/2 tsp baking powder
2/3 cup walnuts, chopped
1/4 tsp salt
2 medium bananas, sliced
1/4 cup almond milk
1 egg, lightly beaten
Directions
Preheat oven to 350°F (175°C, gas 4).
Combine flour, sugar, baking powder, walnuts, and salt. In a separate bowl, mash bananas with a fork.
Add egg and almond milk to banana mixture, then combine dry and wet ingredients. Pour batter into a non-stick muffin pan.
Bake for 30-40 minutes, then transfer muffins to a cooling rack. Serve warm.
Buckwheat Pancakes with Bananas
Serves 2
All key ingredients in this dessert—buckwheat, bananas, and brown rice syrup—are considered hypoallergenic, which means that they are among the foods that are least likely to cause allergic reactions in humans. This is good news if you experience bloating due to allergies or intolerances to certain foods. What's more, the bananas featured in this lovely dessert recipe help fight water retention due to their high concentration of potassium. Ingredients
1 cup buckwheat flour
1 Tbsp brown sugar
2 Tbsp potato starch
1/2 tsp salt
1 tsp baking powder
1 cup rice milk
2 Tbsp canola oil
Vegetable cooking spray, for frying
2 large bananas, sliced
Brown rice syrup, to serve
Directions
Combine dry ingredients in a medium bowl. Add rice milk and canola oil, and whisk until well combined. If batter seems very thick, you may want add a little extra rice milk or water.
Preheat a large nonstick skillet over medium heat. Spray with vegetable cooking spray.
With a ladle, pour batter to the size you prefer. Even out batter on skillet with back of a spoon. Cook pancake on medium high heat for a few minutes until bubbles appear. Flip over and continue frying until cooked (a properly cooked pancake appears dense and not sticky when cut in the middle).
Repeat previous step until batter is gone.
Serve pancakes with banana slices and brown rice syrup.
Want More Anti-Bloating Recipes?
For more recipes that can help you control bloating, visit the main recipe directory of this Guide to Beating Bloating.
For more information about nutrition and bloating, check out How to Reduce a Bloated Stomach Naturally (the home page of this anti-bloat guide). Be also sure to take a look at the diet section (Anti-Bloat Diet: Tips for Reducing Bloating With Food) and the food section (8 Best Foods to Eat to Reduce Bloating and Gas).