Psoriasis and Beta-Carotene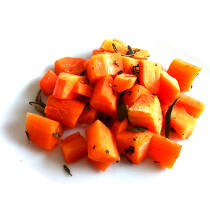 While the observational studies linking a high intake of beta-carotene to a low prevalence of psoriasis cannot prove that foods rich in beta-carotene – such as carrots, kale, spinach or moringa – can reduce psoriasis flare-ups, they do pave the way for clinical trials in this area. To learn more about what we currently know about beta-carotene and psoriasis, keep reading.
Beta-Carotene, Oxidative Stress and Psoriasis
Free radicals are highly reactive molecules that have the potential to harm cells. While some free radicals are simply by-products of your body's metabolic processes, others are generated by things like air pollution, cigarette smoke, radiation, drugs and pesticides. Antioxidants, on the other hand, are generally thought of as beneficial compounds that help protect your body's cells by neutralizing free radicals. Beta-carotene, which is abundant in many orange and green vegetables, is a prime example of an antioxidant compound.
Overproduction of free radicals, or a lack of antioxidants, can lead to an imbalance known as oxidative stress. This imbalance has been linked to a wide range of health problems, including skin inflammation in psoriasis. According to a research paper published in the British Journal of Dermatology in 2005, people with psoriasis have been found to have increased levels of malondialdehyde, a marker for oxidative stress, as well as decreased levels of antioxidant nutrients like beta-carotene, vitamin E and selenium. On the basis of this evidence, the author of the paper suggests that sufficient levels of antioxidants, such as beta-carotene, might be helpful in the prevention of oxidative stress in psoriatic patients. Her conclusions are consistent with the findings of an Italian case-control study which found an association between a high intake of carrots and beta-carotene, on one hand, and a lower risk of psoriasis, on the other hand. This study involved 316 psoriatic patients and 366 controls, and was published in the British Journal of Dermatology.
Beta-Carotene and Conditions Linked to Psoriasis
Aside from the potential beneficial effects on psoriatic skin, beta-carotene might also provide some additional benefits for some people with psoriasis. A number of studies have found that people with psoriasis have an increased risk of certain other health problems, and some observational studies now suggest that beta-carotene might help prevent or fight some these conditions. Here are some examples of conditions that occur more often in psoriasis sufferers than the general population and that have been inversely associated with a high intake of beta-carotene:
Type 2 diabetes – Researchers at the Stanford University School of Medicine found that people with a common genetic predisposition to type 2 diabetes are less likely to develop the condition if they have elevated blood levels of beta-carotene.
Rheumatoid arthritis – low blood levels of beta-carotene have been associated with an increased risk of rheumatoid arthritis.
Asthma – A study published in the Journal of Allergy and Clinical Immunology found that a high dietary intake of beta-carotene was associated with a better Asthma Life Quality (ALQ) test score in asthmatic women.
Metabolic syndrome – A cross-sectional study involving 374 middle-aged and elderly men found an association between a higher intake of beta-carotene and a lower prevalence of metabolic syndrome
The Bottom Line
Studies looking at the beta-carotene intake in people suffering from conditions like psoriasis, type 2 diabetes, rheumatoid arthritis and asthma have primarily focused on identifying associations rather than causal relationships. However, these observational studies do point the way to clinical trials that could establish whether beta-carotene is indeed protective against psoriasis and related conditions, or whether a high beta-carotene intake is merely a marker that dovetails with the presence or absence of the true causal factor.
But, while we wait for new studies to come in, it probably won't hurt to add some healthy whole food sources of beta-carotene to your diet – such as kale or spinach – especially if you have been neglecting them in the past!
References:
1. M. Wolters (2005). Diet and psoriasis: experimental data and clinical evidence. British Journal of Dermatology, 153(4):706-14.
2. L. Naldi et al (1997). Dietary factors and the risk of psoriasis. Results of an Italian case-control study. British Journal of Dermatology, 134(1), 101-106.
3. C. Patel et al (2013). Systematic identification of interaction effects between genome- and environment-wide associations in type 2 diabetes mellitus. Human Genetics.
4. G. Comstock (1997). Serum concentrations of alpha tocopherol, beta carotene, and retinol preceding the diagnosis of rheumatoid arthritis and systemic lupus erythematosus. Ann Rheum Dis. 56(5):323-5.
5. A. Moreira (2004). Increased dietary beta-carotene intake associated with better asthma quality of life. Journal of Allergy and Clinical Immunology, 133(2):S303.
6. I. Sluijs et al (2009). Dietary carotenoid intake is associated with lower prevalence of metabolic syndrome in middle-aged and elderly men. The Journal of Nutrition, 139(5):987-92.
Useful Resources
Offline

Dr. John Pagano has gained international fame with his ground-breaking book,
Healing Psoriasis
, which has been translated into numerous languages. In this compelling book, Dr. Pagano presents an all-natural regimen designed to alleviate and heal psoriasis without steroid creams, tar baths, injections, or ultraviolet treatments. Packed with invaluable diet and lifestyle tips, recipes, case studies, and before-and-after photos,
Healing Psoriasis
is a great resource for anyone interested in a drug-free treatment for psoriasis. Available from
Amazon.com
and
Amazon.co.uk
.
Online FREE
Make it a habit to visit HealWithFood.org's online
Guide to Healing Psoriasis
on a regular basis. Updated once a week, the sidebar on the
home page
of the guide contains tons of links to interesting nutrition-related articles hand-picked for psoriasis sufferers. It also contains a weekly smoothie recipe featuring ingredients with psoriasis-fighting potential, as well as a book tip.