Apple and Mango Smoothie Featuring Turmeric Powder
Serves 2
This vitamin-packed smoothie features mango, banana, turmeric powder and Red Delicious apples. In an intriguing study published in the Journal of Agricultural and Food Chemistry, a group of researchers from Canada compared the antioxidant capacity of eight apple varieties and found that Red Delicious apples, along with Norhern Spy apples, had the strongest antioxidant properties among the tested varieties. What's more, the skin contained substantially higher levels of antioxidants than the flesh, so don't bother peeling the apples before throwing them in the blender. Just make sure you use organically-grown apples to reduce your exposure to pesticides!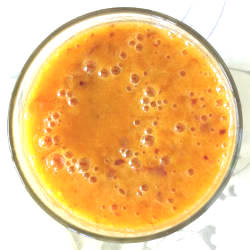 Ingredients
1 mango
1 small banana
2 small Red Delicious apples
1 ½ tsp pure turmeric powder
½ cup crushed ice
1 ½ cups water
Directions
Peel the mango and remove the stone. Peel the banana, and cut it into a few chunks. Wash and core the apples.
Place all the ingredients in a large-capacity blender. Note: If you're using a high-powered blender that can handle whole ice cubes, you can also use eight ice cubes instead of crushed ice if you like.
Blend until smooth and creamy.
Check the consistency of the smoothie. If it's is too thick for your taste, add more water, and blend again.
Pour into glasses, and serve.
Book You May Like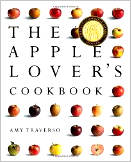 A must-have for all apple lovers, this award-winning guide and cookbook packed with apple facts, tips and 100 mouthwatering recipes showcasing one of the world's most versatile fruits. Clocking in at 300 pages, this inspiring cookbook covers everything from soups and dumplings, to breads and salads, to cakes and muffins. Available from

Amazon.com,


Amazon.ca and

Amazon.co.uk.
Sponsored Links / Ads