Raspberry and Cherry Smoothie (Dairy-Free)
2 servings (about 2 cups)
This smoothie recipe combines sweet cherries and plump raspberries with invigorating ginger infusion. Both raspberries and cherries get their distinctive red color from anthocyanins, plant pigments that have strong antioxidant and anti-cancer properties. Also ginger has been shown to possess anti-cancer properties. This smoothie is dairy-free and vegan.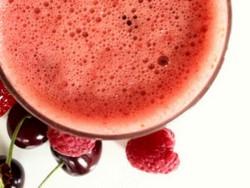 Ingredients
¾ cup water
3 teaspoons grated ginger root
90g cherries (about 12 cherries)
100g raspberries (¾ heaping cup)
½ cup crushed ice
Directions
In a teapot, pour boiling water over the grated ginger and let steep for 8-10 minutes. Cool the infusion. While the infusion is cooling, halve the cherries and remove the stones.
In a blender or food processor, blend the cooled ginger root infusion, the pitted cherries, and the raspberries until smooth.
Add the crushed ice and mix again. Pour into into small glasses, and serve with quirky eco-straws made of stainless steel, borosilicate glass, or bamboo.
Nutritional Information

Nutrition facts for this dairy free Raspberry and Cherry Smoothie are provided per 100 grams, per recipe (426 grams), and per ½ recipe (213 grams or about 1 cup) in the table below. The Percent Daily Values are provided in brackets.
Per 100g
Per Recipe
Per ½ Recipe
Comment
Energy in kcal
26 (1%)
109 (5%)

54

(3%)
Low in calories
Protein in g
1 (1%)
2 (4%)
1 (2%)
NA
Total Fat in g
0 (0%)
1 (1%)
0 (1%)
Practically fat-free
Saturated Fat in g
0 (0%)
0 (0%)
0 (0%)
No saturated fat
Carbohydrates in g
6 (2%)
26 (9%)
13 (4%)
NA
Fiber in g
2 (8%)
8 (34%)
4 (17%)
An excellent source of fiber
Sodium in mg
0 (0%)
1 (0%)
1 (0%)
Virtually sodium-free
Cholesterol in mg
0 (0%)
0 (0%)
0 (0%)
Cholesterol-free
Nutrition facts for recipes on healwithfood.org are primarily based on nutritional data provided by USDA SR-21. Percent Daily Values or %DV, indicated in brackets in the table above, are based on recommendations for a 2,000 calorie reference diet. Your daily values may be different depending on your individual needs.