Strawberry and Blood Orange Smoothie
2 servings (about 2 cups)
This dairy-free smoothie recipe pairs luscious strawberries with refreshing blood orange juice. Strawberries are packed with vitamins and flavonoids such as fisetin. Early research suggests that fisetin may help control common complications of diabetes and boost memory and cognition. Blood orange juice gets its red color from anthocyanins, plant pigments that have strong antioxidant and anti-cancer properties.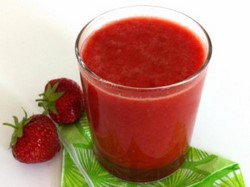 Ingredients
185 g strawberries (about 15 berries)
¾ cup blood orange juice
2 teaspoons flaxseed oil
½ cup crushed ice
Directions
Blend the strawberries, blood orange juice, and flaxseed oil in a blender or food processor until smooth.
Add the crushed ice and blend again.
Pour into into small glasses, and serve with eco-straws that are good both for you and the environment.
Nutritional Information

Nutrition facts for this dairy free Strawberry and Blood Orange Smoothie are provided per 100 grams, per recipe (430 grams), and per serving (215 grams or about 1 cup) in the table below. The Percent Daily Values are provided in brackets.
Per 100 g
Per Recipe
Per Serving
Comment
Energy in kcal
49 (2%)
212 (11%)

106

(5%)
NA
Protein in g
1 (1%)
2 (4%)
1 (2%)
Low in protein
Total Fat in g
2 (3%)
9 (14%)
5 (7%)
Virtually all fat in this smoothie comes from flaxseed oil (rich in omega-3)
Saturated Fat in g
0 (1%)
1 (4%)
0 (2%)
Very little saturated fat
Carbohydrates in g
7 (2%)
32 (11%)
16 (5%)
NA
Fiber in g
1 (4%)
5 (18%)
2 (9%)
NA
Sodium in mg
1 (0%)
4 (0%)
2 (0%)
Virtually sodium-free
Cholesterol in mg
0 (0%)
0 (0%)
0 (0%)
Cholesterol-free
Nutrition facts for recipes on healwithfood.org are primarily based on nutritional data provided by USDA SR-21. Percent Daily Values or %DV, indicated in brackets in the table above, are based on recommendations for a 2,000 calorie reference diet. Your daily values may be different depending on your individual needs.