Chia Seeds for Joint Pain and Inflammation Associated With Arthritis
Chia seeds are making headlines for their ability to promote cardiovascular health, but what about their effect on joint health? Are these nutrient-dense seeds any good at reducing joint pain and inflammation associated with rheumatoid arthritis?
Turns out, the ancient Aztecs used chia seeds to relieve joint pain, among other things. However, despite the history of chia as a natural remedy for joint problems, little scientific research has been done on the subject. That said, the nutrient composition of chia seeds has been studied, and interestingly, many of the nutrients found in these tiny seeds are well known for their anti-inflammatory and anti-rheumatic properties. Here's a lowdown of the key joint health promoting nutrients found in chia:
Anti-Inflammatory Omega-3 Fatty Acids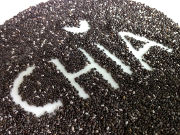 Chia seeds are packed with anti-inflammatory and anti-rheumatic nutrients.
Chia seeds are one of the richest plant-based sources of alpha-linolenic acid (ALA), a type of omega-3 fatty acid. Omega-3 fatty acids are known for their strong anti-inflammatory properties, and a number of studies have found that an increased intake of omega-3 fats can reduce joint pain and inflammation, as well as joint stiffness in people with rheumatoid arthritis. And the great thing about chia seeds is that, unlike flaxseed, they don't need to be ground in order for you to benefit from their omega-3 content. Chia has a soft seed coat, which makes its health promoting fatty acids bioavailable even without grinding.
Quercetin – An Unsung Anti-Inflammatory Nutrient
If you are an avid reader of HealWithFood.org's Rheumatoid Arthritis Guide, you may already be familiar with the most popular natural sources of quercetin, including red onions, cranberries and lingonberries. However, few people know that also chia seeds contain this powerful flavonoid and antioxidant. Research shows that quercetin is highly effective at fighting inflammation, including joint inflammation which is responsible for the pain associated with rheumatoid arthritis.
Chia – A Treasure Trove of Anti-Arthritis Minerals
Chia seeds are also rich in two of the most important minerals for people who suffer from joint pain and inflammation: zinc and copper. These two minerals are involved in the production of enzymes that fight inflammation by neutralizing free radicals. In addition, copper helps the body manufacture connective tissue, ligaments, and tendons, which surround joints and help them stay stable, and zinc is involved in building enzymes that repair joints.
The Bottom Line
Due to chia's extraordinary nutrient profile, the chances are that taking chia seeds for joint pain and inflammation may indeed bring some much-needed relief. However, the only sure-fire way to find out whether chia seeds will work in your case is to try them out. And, even if you find that they do little to reduce your rheumatoid arthritis symptoms, there are plenty of other reasons to incorporate these nutrient-dense super-seeds into your diet. To learn more about the various health benefits associated with eating chia seeds, see our article Why Chia Seeds Are Good for You.
Don't Miss This

Where to Buy Organic Chia Seeds?
Struggling to find organic chia seeds in the stores in your area? Check out these tips.
Related Articles
Book You May Like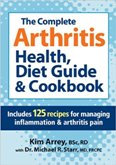 This science-based all-in-one guide by registered dietitian Kim Arrey and practising rheumatologist Dr. Michael Starr explains how specific medications, nutritional supplements, foods, and lifestyle factors affect the pain and inflammation associated with rheumatoid arthritis. Packed with invaluable tips and tasty anti-inflammatory recipes and sample menus,
this meticulously-researched guide and cookbook is a must-have for all RA-sufferers
. To learn more, or to order a copy from your local Amazon store,
click here
.