Healthy Seasonal Recipes for January – UK and Ireland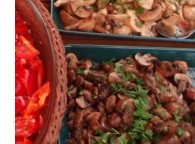 On this page, you'll find a collection of healthy seasonal recipes for people living in the UK or Ireland. In addition to being incredibly healthy, all the main ingredients in these recipes are foods that are in season in Great Britain and/or Ireland in January. By cooking with fresh, locally-grown foods that are in season you are helping your budget, your health and the environment!
Come back next month to find out what's in our collection of healthy seasonal recipes for February!
Detoxifying Pear Cooler
4 Servings
Be sure to make the most of locally grown pears while they are still in season and available at farmers markets and local grocers in England, Scotland, the rest of the UK and Ireland. One way to enjoy vitamin-packed pears is to turn them into a succulent smoothie treat like this one. In addition to providing vitamins, this pear cooler provides a generous supply of fiber as it is made with unpeeled organic pears. The fiber in pears' peel helps prevent constipation, lower high cholesterol levels and carry toxins and cancer-causing chemicals out of the body.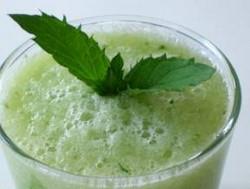 Ingredients

5 organic pears, unpeeled
8 ice cubes
3 tsp minced fresh peppermint leaves
Whole mint leaves, for garnish

Method
Wash and slice the unpeeled pears.
Combine the pear slices, ice cubes, and minced mint in a blender. Process until creamy.
Pour into chilled glasses and garnish with mint leaves. Serve immediately.
Recipe type:
drink | smoothie | breakfast
Characteristics:
detoxifying | vegan | antioxidant |
heart-healthy
| high in fiber
Curried Carrot Soup
6 Servings
This healthy seasonal recipe calls for locally grown carrots which are available in the UK and Ireland in January. The ginger and curry powder that are used to season this vegetarian soup will have to be imported from abroad, but they will make sure this soup provides you with extraordinary health benefits. Both ginger and curry are known for their antioxidant, anti-cancer and flu-fighting properties!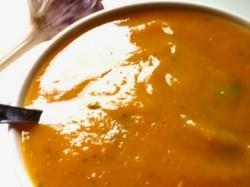 Ingredients

1 Tbsp canola oil
1 large yellow onion, coarsely chopped
1 clove garlic, smashed
2 tsp curry powder
1 1/2 pounds organic carrots, unpeeled but scrubbed, sliced into 1/4-inch thick rounds
1/2 inch piece fresh ginger, peeled and finely chopped
700ml (3 U.S. cups) low-sodium vegetable broth

Method
Heat the oil in a medium saucepan over medium heat. Add the garlic and curry powder, and cook about 30 seconds, stirring constantly.
Add the carrots, onion, ginger, onion, and broth, and bring to boil over medium high heat. Reduce the heat to medium-low, and simmer until carrots are tender (about 20 minutes).
Working in batches, puree the soup in a blender or use an immersible hand blender to blend the soup until smooth.
Serve hot or cold.
Recipe type:
soup | dinner | vegetarian | vegan
Characteristics:
immunity-boosting
|
anti-cancer
| antioxidant |
heart-healthy
| low fat
Beet and Carrot Soup
Serves 4
This recipe combines beets and carrots — both of which are in season this month in the UK and Ireland — to create a hearty soup that is packed with health protecting nutrients. Beets contain betacyanin which has been shown to be highly effective at scavenging free radicals responsible for many degenerative diseases. The beta-carotene in carrots is also famous for its ability to destroy free radicals. The ginger in this recipe provides zingibain, a type of proteolytic enzyme that has anti-inflammatory and allergy-fighting properties.
If you like this healthy seasonal recipe, try also our Healthy Beet and Carrot Salad.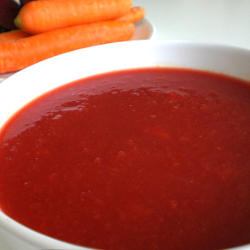 Ingredients

3 medium beets, peeled and diced
1 tbsp canola oil
1 large onion, chopped
450g (1 pound) carrots, diced
1 tbsp minced fresh ginger
1 garlic clove, minced
1.4 litres (6 U.S. cups) vegetable stock

Method
Heat the canola oil in a large saucepan over medium heat. Sauté the copped onion until golden brown. Add the garlic and ginger and cook for 2 minutes, stirring frequently.
Add the beets, carrots and stock. Reduce the heat to low and simmer covered until the beets and carrots are tender, about 25 minutes.
In a food processor, purée the soup in batches. Taste the soup and adjust the seasonings.
Garnish with cilantro leaves and serve hot or cold.
Recipe type:
soup | lunch | dinner | vegan
Characteristics:
asthma fighting
|
anti-wrinkle
|
heart-healthy
|
allergy fighting
| antioxidant
HealWithFood.org
provides nutrition and health related news, tips and food recipes. Check out our
home page
on a regular basis to get the latest tips and news.