HealWithFood.org's Guide to Preventing Wrinkles ( Home | Diet | Foods | Recipes )
The Anti-Wrinkle Diet: 9 Diet Tips That Can Help Prevent Wrinkles

This anti-wrinkle diet can help you reverse the skin's aging process from the inside out. The paragraphs below shed light on the important connection between diet and wrinkles and explain how the consumption of vitamin C (ascorbic acid), vitamin E, lean protein, coenzyme Q10, omega 3 fatty acids, vitamin A, beta-carotene, zinc, quercetin, selenium and low GI foods can help prevent wrinkles and fine lines and promote the production of collagen.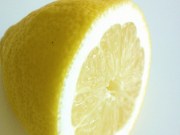 Low intakes of vitamin C are associated with wrinkles.
#1: Load on Foods Rich in Vitamin C and Vitamin E
Vitamin C is inarguably one of the most important vitamins in the battle against wrinkles. Research has shown a direct link between low intakes of vitamin C and prevalence of a wrinkled appearance and dry skin. Vitamin C is known to support collagen production and protect against damage from UV radiation. It may also help with pigmentation problems and inflammatory skin conditions. To enhance the anti-wrinkle effects of vitamin C, combine foods rich in vitamin C with foods that contain vitamin E, another vitamin that can protect the skin from the sun. Vitamin C and vitamin E protect each other and are more effective when consumed together.
#2: Ensure a Sufficient Intake of Lean Protein
A sufficient intake of lean protein is crucial for maintaining youthful skin as it contains amino acids that are essential for the production of collagen and elastin. Collagen and elastin give the skin its texture and ability to stretch. As we age, our collagen and elastin production decreases rapidly, which can show up as wrinkles and lines in the skin. The most important amino acids for collagen and elastin production include glycine, proline, and lycine. These three amino acids are plentiful in a number of foods, including fish, eggs, meat, beans, nuts and seeds. In order to form strong collagen, the amino acids proline and lysine need certain cofactors such as vitamin C, iron and manganese.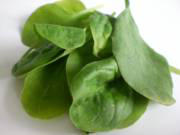 Coenzyme Q10, found in spinach and a number of other foods, has strong antioxidant properties.
#3: Be Sure to Eat Plenty of Foods That Contain Coenzyme Q10
Coenzyme Q10 (also known as ubiquinone or CoQ10) is a vitamin-like substance found in all human cells. The human body is able to synthesize some of its own CoQ10, but the production level declines dramatically as we age. CoQ10 is also found in a number of foods, the richest dietary sources being red meat — particularly organ meats such as liver and heart — and fresh sardines and mackerel. It is also found in some vegetables such as spinach, broccoli, peanuts, whole grains, and wheat germ. Processing and cooking (particularly frying) significantly decrease the CoQ10 content of foods. Due to its strong antioxidant properties and its ability to boost the antioxidant effects of vitamins C and E, CoQ10 is an important nutrient for anybody who wants to ward off lines and wrinkles.
#4: Watch out for Fats but Don't Eliminate the 'Good Fats' Completely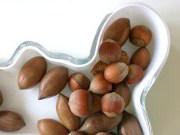 Nuts are a great source of essential fatty acids.
A diet high in fat can contribute to wrinkles. That being said, you should not completely eliminate all fats from diet. Essential fatty acids (EFAs) — found in large quantities in such foods as nuts, seeds, fatty fish and unrefined whole grains — are absolutely necessary for the proper functioning of the body and must be obtained through diet. Not only are EFAs needed for a number of bodily functions, they can also help fight wrinkles when consumed in moderate amounts. They help moisturize the skin, keeping it soft and smooth.
Research also suggests that omega-3 fatty acids, a type of EFAs, can help protect the skin from UV damage, and thus from premature aging and wrinkling. The protective effects are believed to result from the anti-inflammatory properties of these fatty acids. Today, most modern diets in Western countries lack sufficient amounts of the anti-inflammatory omega-3 fatty acids. Good sources of omega-3 fatty acids include soybeans, flaxseeds, walnuts, and cold water fish like salmon, cod, and halibut.
#5: Consume Foods High in Vitamin A and Beta-Carotene
Vitamin A is an important nutrient needed to maintain, protect and repair skin. A deficiency of vitamin A can cause skin rashes and dry skin. Beta-carotene — which is found yellow/orange and green vegetables and fruit such as spinach, carrots, sweet potatoes, winter squash, mango, melon and apricots — also plays an important role in the fight against wrinkles due to its antioxidant properties as well as its role as a precursor to vitamin A. Note: A surprisingly large number of people living in Western countries appear to have a genetic variation that prevents them from effectively converting beta-carotene into vitamin A. For details, read the article Half of British Women May Have Genetic Vitamin A Deficiency.
#6: Step up Your Zinc Intake
Zinc is another vital component to youthful skin, being that it plays a key role in tissue growth and repair, and the regulation of oil secretion. It also plays a role in protein synthesis and in collagen formation, both of which are necessary for maintaining healthy skin. Furthermore, zinc is necessary for converting beta-carotene to vitamin A and is essential for the production of superoxide dismutase (SOD), an important anti-oxidant enzyme which helps protect the skin from the damaging effects of free radicals.
Zinc is found in a variety of foods. Some of the best sources include oysters, red meat, and poultry. Zinc from plant sources such as nuts, garlic, legumes, and grains is not as readily used by the body, although oats are a very good source of zinc that the body can easily use.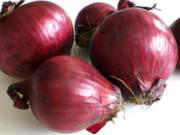 Quercetin, abundant in red onions, is a super-antioxidant.
#7: Consume Foods That Contain Quercetin
Flavonoids (also referred to as bioflavonoids) are natural compounds that give many plants, including fruits and vegetables, their vibrant colors and protect them from microbes and insects. Some of these compounds contain structural elements that allow them to act as antioxidants and gobble up free radicals, thereby contributing to the battle against wrinkles. Quercetin, one of the most abundant bioflavonoids in the nature, is particularly effective at scavenging free radicals. Good dietary sources of quercetin include red and yellow onions, broccoli, capers, apples, red grapes, citrus fruits, cherries, tea, red wine, and many berries including raspberries, lingonberries, and cranberries.
#8: Be Sure to Get Enough Selenium
Improving dietary intake of the trace mineral selenium through foods such as Brazil nuts, crimini mushrooms, cod, shrimp, and halibut may help protect the skin from the damaging effects of the sun. The potential beneficial effects of selenium on the skin are based on its role in the antioxidant system of the body: selenium is an important component of several enzymes involved in antioxidant defense. To get the most out of selenium's health benefits, combine selenium rich foods with foods high in vitamin E (selenium boosts the effectiveness of vitamin E).
#9: Favor Starchy Foods and Limit the Amount of Simple Carbohydrates
Carbohydrates — classified either as simple (single and double sugars) or complex (starchy foods) — are the primary source of energy for the human body. An anti-wrinkle diet should focus on starchy foods and limit the amount of simple/double sugars consumed. In one study, researchers gave 14 healthy subjects a drink containing 75 grams of glucose — the simplest form of sugar. This amount is roughly equivalent to the sugar content of two cans of a cola drink. The control group were given a drink composed of water and the artificial sweetener saccharin. Blood samples revealed that free radical generation increased significantly in the test subjects while there was no change in free radical formation in the control group.
Free radicals can contribute to wrinkles by damaging healthy collagen and elastin. In addition, simple sugars and refined carbohydrates generally lead to a quick rise in blood sugar levels, which in turn encourages inflammation on a cellular level, possibly contributing to saggy, wrinkled skin. Furthermore, sugar has the ability to directly attach to the collagen in the skin, making the tissue stiff and saggy (a process known as glycation). Finally, sugar may deplete the body of some important wrinkle-fighting nutrients, including vitamin E and vitamin C.