How to Freeze Cauliflower Rice
One of the best things you can do with a lot of cauliflower is to turn it into healthy mock rice, better known as cauliflower rice, cauli-rice or riced cauliflower. This Paleo-friendly, gluten-free rice substitute can be eaten raw in salads, but it also makes a wonderful side dish when stir-fried with other ingredients. The great thing about turning an abundance of cauliflower into cauli-rice is that you can freeze cauliflower rice, and whenever you feel like having a healthy cauliflower dish for lunch or dinner, you can simply pull out a portion of frozen cauliflower rice from the freezer. Making a large batch cauliflower rice and freezing it for later use also means that you only have to get out and clean your food processor once—assuming that you use a food processor to make cauliflower rice; some people use a box grater.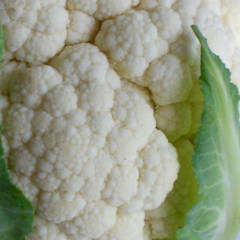 What's also nice is that you don't have to blanch cauliflower rice before freezing it. While unblanched frozen vegetables are safe to eat [1], blanching, or scalding vegetables in boiling water before freezing, is typically recommended for fresh vegetables because it helps preserve their color, flavor and texture. However, as cauliflower rice is already white and granular, you can skip the blanching step. Here's how to make and freeze cauliflower rice for multiple meals:
How to Make and Freeze Cauliflower Rice
Wash the cauliflower, and remove the leaves, tough stem and other hard parts. You only need the florets for the rice, but it makes sense to save the trimmings for another use (you can blanch and freeze the cauliflower pieces if you don't want to use them immediately).
Rinse the cauliflower florets under cold running water, and drain thoroughly in a colander. Pat dry with clean paper towels to remove any excess moisture.
Turn the florets into cauliflower rice using the grater blade on your food processor, or pulse them in the bowl of the processor using the S-blade. Or, grate by hand on a box grater.
There is no need to blanch cauliflower rice before freezing it. Simply divide freshly-made cauliflower rice into meal-size portions, and put each portion in a freezer-safe bag.
Squeeze out as much air as possible, and seal. Keeping the air out of the freezer bags helps ensure your cauliflower rice stays good in the freezer for as long as possible.
Flatten and label the bags, and stack in the freezer. Cauliflower rice will keep in the freezer for several months.
To use frozen cauliflower rice, let it defrost first in the fridge, or cook immediately on a frying pan.
How to Use Frozen Cauliflower Rice
There are many ways you can use cauliflower rice in cooking, whether you are using fresh cauliflower rice or its frozen counterpart. One of the most popular ways to cook cauliflower rice is to stir-fry it with a little bit of garlic, but you can also use it to make a grain-free pizza crust, paleo-friendly burritos, stuffed vegetables or veggie burgers. Or, try substituting it for real rice in recipes for risotto or paella.
Sponsored Links / Ads
Don't Miss This

10 Best Low Calorie Fruits for Dieters
List of 10 low-calorie fruits, each of which provides fewer than 50 calories per 100 grams.
More to Explore