Anti-Inflammatory Lifestyle Tips (Plus 150 Recipes with Nutrition Facts)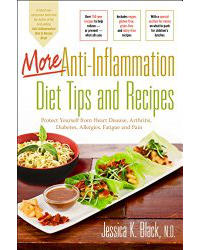 More Anti-Inflammation Diet Tips and Recipes is the much-anticipated follow-up to Dr. Jessica Black's best-selling guide and cookbook, The Anti-Inflammation Diet & Recipe Book. In this sequel, Dr. Black provides tons of useful tips to help you kickstart an anti-inflammatory lifestyle, plus 150 mouthwatering recipes, each of which is accompanied by a full nutritional analysis. This comprehensive anti-inflammatory guide is available on Amazon.com, Amazon.co.uk and Amazon.ca.
More Anti-Inflammation Diet Tips and Recipes – A Follow-Up to Jessica Black's Bestselling Cookbook
After the success of her best-selling first book, The Anti-Inflammation Diet and Recipe Book, First Edition, which was released in 2006, Dr. Jessica Black follows up with even more information and tips to help you adopt an anti-inflammatory lifestyle, which not only involves making dietary changes but which may also mean changing your exercise and other lifestyle habits. This new holistic emphasis on lifestyle, rather than just diet, is in accord with the latest research which suggests that also things like stress and emotional issues are linked to chronic inflammation.
However, even with a dedicated chapter on non-diet related inflammatory triggers, the focus of the book is still on dietary habits and recipes. Like most other anti-inflammatory diets, Dr. Black's eating plan emphasizes whole foods and vegetables, and eliminates processed foods and sugars. Her recipes range from wholesome breakfast dishes to mouthwatering soups, salads and smoothies. There's even a special recipe section for parents which includes some exciting anti-inflammatory lunch ideas for kids. And perhaps best of all, all recipes come with full nutritional analyses, and many of the recipes offer vegan, gluten-free or dairy-free options. Here are a few examples of recipes you'll find in this anti-inflammatory guide and cookbook:
Entrees: Chia Vegetable Stir-Fry, Frittata Pizza, Green Curry, Gluten-Free Pasta, Easy Teriyaki Salmon
Breakfasts: Quick Avocado Breakfast, Simple Buckwheat Breakfast, Cashew Oat Waffles, Sunflower Butter Pancakes, Gluten-Free French Toast
Salads: Tangy Quinoa Salad, Sesame-Ginger Vinaigrette Salad, Refreshing Salmon Salad, Warm Golden Beet Salad
Soups: Lentil Apricot Soup, Thyroid Support Soup, Wellness Broth
Desserts: Berry Mango Sorbet, Homemade Chocolate Spread, Mini Pumpkin Pies, Tapioca Pudding
Smoothies: Cool Wheatgrass Pineapple Smoothie, Pear Avocado Smoothie, Chia Green Smoothie
In addition to providing 150 recipes featuring anti-inflammatory ingredients, this 300-plus page guide and cookbook also provides plenty of information, tips and tools to help you adopt an anti-inflammatory diet. Within these pages, you'll find an overview of the benefits of the anti-inflammatory diet, explaining the science behind Dr. Black's recipes. Other highlights include:
Handy charts of foods to eat and foods to avoid
List of food items to keep on hand / shopping list
Resource list on where to get certain foods
Collection of tips for eating out
Vegan, gluten-free and dairy-free icons which identify recipes that are responsive to dietary restrictions
Who is This Book For?
This cornucopia of anti-inflammatory recipes and lifestyle tips may prove helpful for anyone who suffers from a condition associated with chronic inflammation, whether it is asthma, allergies, arthritis, cardiovascular disease, eczema, obesity, psoriasis, or any other of the many ailments that have been associated with inflammation. It is also a great choice for those looking for anti-inflammatory vegan, gluten-free or dairy-free recipes since many of the 150 recipes included are vegan, gluten-free and/or dairy-free.
But before you head to Amazon.com, Amazon.co.uk or Amazon.ca to order a copy of this comprehensive anti-inflammatory guide and cookbook, it may be a good idea to talk to a qualified dietitian or nutritionist. In some individuals, inflammatory conditions may be caused or aggravated by allergies or intolerances to specific foods, including certain anti-inflammatory foods, but a registered dietitian or certified nutritionist can help you identify those trigger foods so you will be able to modify the recipes in this cookbook accordingly, if necessary.
Jessica Black's More Anti-Inflammation Diet Tips and Recipes is available through


Amazon.com,

Amazon.co.uk and

Amazon.ca.
You May Also Like

10 Great Ways to Prepare and Eat Zucchini
Zucchini can be used to add mild flavor to everything from salads to sandwiches.
More to Explore
Sponsored Links / Ads