Recipes Featuring Dandruff-Fighting Foods (Page 2/3)
The following recipes call for dandruff-fighting foods such as raspberries, ground flaxseed, chicken, quinoa, and apples. Note that this is the second page in our collection of dandruff-fighting recipes. If you missed page 1, click here.
Raspberry Banana Smoothie
2 servings
This smoothie is literally bursting with vitamin B6. What's more, both the raspberries and the ground flaxseed add healthful omega-3 fatty acids to this delectable anti-dandruff smoothie.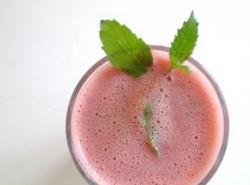 Ingredients
1 cup fresh raspberries
1 ripe banana, sliced and frozen
1 cup rice milk
1 Tbsp flaxseed, freshly ground

Directions
Combine all ingredients in a blender or food processor and process until smooth. Garnish as desired. Serve immediately.
Chicken and Barley Soup
8 servings
Provided that you are not sensitive or allergic to gluten, this barley soup can make a great anti-dandruff meal. Chicken provides a great source of the type of zinc that is readily used by the body (zinc can control sebum production and thus dandruff), while spinach delivers plenty of B vitamins. Ingredients
1 1/2 pounds skinless chicken breast
9 cups chicken broth
1 cup carrots, diced
1/2 cup organic celery, finely chopped
1/2 cup barley, cooked [
buy it here
]
1/4 cup yellow onion, sliced
1/2 cup fresh spinach leaves, cut into strips
Salt and pepper, to taste

Directions
Cut the chicken breasts into bite-sized pieces. Place in a large stockpot and cover with broth. Bring to a boil and skim surface of accumulated foam. Simmer on low heat for about 40 minutes. Add carrots, celery, and onion and simmer for another 15 minutes. Add spinach and barley. Heat through and season with salt and pepper.
Quinoa Crepes with Applesauce
10-12 crepes
Quinoa is considered one of the least allergenic of all grains, making it a great grain for people with dandruff. Also applesauce is considered hypoallergenic and is often recommended to people suffering from dandruff. Ingredients
1 1/2 quinoa flour
1/2 cup tapioca flour
1 tsp baking soda
1 tsp cinnamon
2 cup carbonated water
3 tbsp canola oil
3 cups unswtnd, organic apple sauce
Cinnamon, to taste

Directions
In a medium bowl, mix together quinoa flour, tapioca flour, baking soda, and cinnamon. Add water and oil and whisk until well combined. Preheat a large nonstick skillet over medium heat. Add a few drops of canola oil. For first crepe, pour about 1/3 cup of batter into skillet, rotating skillet quickly until bottom is evenly coated. Cook crepe on medium high heat until bottom is light brown. Flip over and briefly cook other side. Repeat previous step until batter is gone. Serve with apple sauce.
Chicken and Apple Salad
Serves 4
This dandruff-fighting salad recipe pairs rich chicken with lush grapes and crunchy apples to create an amazing taste sensation. But the best thing is, the benefits of this salad are not purely culinary; this salad is also great for your hair and scalp, especially if you suffer from dandruff. Chicken provides a great source of zinc which controls sebum production and thus dandruff. Also apples are frequently recommended as a cure for dandruff. Ingredients
3 cups cooked chicken, diced
1 cup grapes, halved
1/2 cup celery, diced
3 tbsp red onion, finely chopped
1/2 cup organic apples, diced
6 tbsp extra light mayonnaise
2 tsp lemon juice
Salt and pepper, to taste
Lettuce leaves

Directions
Combine all ingredients in a bowl.
Apple Slices with Cinnamon
Serves 1
An apple a day keeps the doctor away, goes the old adage. But according to many naturopaths, apples can also keep dandruff at bay.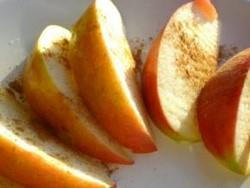 Ingredients
1 medium apple, cored and sliced
1/4 tsp cinnamon, ground

Directions
Place apple slices on a small serving plate. Sprinkle with cinnamon and serve immediately.
Low-Fat Apple and Raspberry Crumble
Dairy-Free
In addition to apples, this crumble features oats which can help control itching and flaking as they are packed with B vitamins and zinc. Ingredients
5 large cooking apples, finely sliced
1 cup raspberries
2 cups apple juice
2 cups rolled oats
2 tbsp butter or margarine
2 tbsp brown sugar
2 tsp of cinnamon
1/2 tsp cloves

Directions
Preheat oven to 350°F (gas 4)Arrange apple slices and raspberries in a buttered baking dish. Pour apple juice over. Mix rolled oats, sugar, and spices in a medium bowl. Cut in butter or margarine with fingers until evenly dispersed. Cover apples and raspberries with crumble topping. Bake for 45-60 minutes in preheated oven. Serve hot or cold.
Shrimp and Mushroom Risotto
Serves 3
This simple recipe helps you create a risotto that's full of flavor and nutrients. Both mushrooms and shrimp are rich in the anti-dandruff mineral zinc. In addition, this risotto delivers plenty of B vitamins. Ingredients
3 tbsp olive oil
1/4 lb crimini mushrooms, cleaned, stemmed and diced
1/4 lb shrimp, peeled and deveined
1 garlic clove, minced
1 onion, finely chopped
1 2/3 cups long grain brown rice, uncooked
4 1/4 cups vegetable broth
3 tbsp fresh chives, chopped
1/4 lb frozen peas, thawed
Salt and pepper

Directions
Heat 2 tablespoons olive oil in a large saucepan. Add mushrooms and shrimp and season with salt and pepper. Cook, constantly stirring, for 3-5 minutes until shrimp are cooked through. Transfer to a plate and set aside. Using same saucepan, heat another 1 tablespoon olive oil, and add minced garlic and onion. Sauté for a few minutes until onions begin to turn translucent. Add rice and cook for a few minutes, constantly stirring. Add half a cup of broth. Cook, stirring occasionally, until almost all broth is absorbed. Add another half a cup of broth each time liquid is absorbed until all broth is used and rice is almost cooked (use water if you run out of broth towards end). Add peas, chives, and sautéed shrimp and mushrooms. Cook for a few minutes, constantly stirring. Season with salt and pepper to taste. Transfer to serving plates and serve immediately.

Directions
Combine first five ingredients in a large bowl. In a small bowl, combine mayonnaise, lemon juice, and salt and pepper. Stir into chicken mix. Arrange lettuce leaves on serving plates and top with chicken salad.
Continue

You may also be interested in exploring our pages dedicated to providing more general diet tips for dandruff prevention. Be also sure to check out the list of the best anti-dandruff foods.