Recipes with Dandruff-Reducing Ingredients (Page 3/3)
Discover healthy recipes that use some of the best dandruff-reducing ingredients such as garlic, leeks, buckwheat, ginger, oats, and raspberries. Note that this is the third page in our collection of dandruff-reducing recipes. To view the previous pages, see page 1 or page 2.
Buckwheat Pancakes with Bananas
Serves 2
Unlike most other pancake recipes, this one does not require eggs, making these pancakes ideal for people with dandruff since a high intake of animal protein, including eggs, has been associated with dandruff. As an added benefit, all key ingredient in this dessert—buckwheat, bananas, and brown rice syrup—are considered hypoallergenic, which means that they are among the foods that are least likely to cause allergic reactions in humans. Ingredients
1 cup buckwheat flour
1 Tbsp brown sugar
2 Tbsp potato starch
1/2 tsp salt
1 tsp baking powder
1 cup rice milk
2 Tbsp canola oil
Vegetable cooking spray, for frying
2 large bananas, sliced
Brown rice syrup, to serve

Directions
Combine dry ingredients in a medium bowl. Add rice milk and canola oil, and whisk until well combined. If batter seems very thick, you may want add a little extra rice milk or water. Preheat a large nonstick skillet over medium heat. Spray with vegetable cooking spray. With a ladle, pour batter to the size you prefer. Even out batter on skillet with back of a spoon. Cook pancake on medium high heat for a few minutes until bubbles appear. Flip over and continue frying until cooked (a properly cooked pancake appears dense and not sticky when cut in the middle). Repeat previous step until batter is gone. Serve pancakes with banana slices and brown rice syrup.
Beet and Carrot Salad with Ginger
Serves 1
This recipe pairs two delicious root vegetables to create an excellent natural remedy for dandruff. In addition, the ginger featured in this salad may be helpful for people with dandruff because it has strong anti-fungal and anti-bacterial properties. Fresh ginger, which is used in this recipe, is said to be the most effective form of ginger.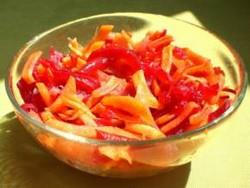 Ingredients
1/2 cup raw beets, peeled and grated
1/2 cup organic carrots, grated
2 tbsp apple juice
1 tbsp extra-virgin olive oil
1/2 tsp fresh ginger, minced
1/8 tsp sea salt

Directions
Combine grated beets and carrots in a small bowl. Mix apple juice, olive oil, ginger, and salt in a separate bowl and drizzle over salad mixture. Toss gently. Enjoy!
Oat Muesli with Apples and Raspberries (Dairy-Free)
4 servings
An apple a day keeps the doctor away, goes the old adage. But according to many naturopaths, apples can also keep dandruff at bay. Also oats may help treat dandruff as they are packed with B vitamins and zinc. Ingredients
1 1/2 cups rolled oats
1/2 cup popped rice
2 tsp ground cinnamon
1 cup organic apples, diced
1 cup raspberries
3 tbsp brown sugar
Rice milk to serve

Directions
Preheat oven to 325°F (160°C, gas 3). Mix oats, sugar, and cinnamon in a bowl. Spread mixture evenly onto a non-stick baking tray. Toast oat mixture in preheated oven for about 10 minutes, stirring occasionally. Watch mixture very closely when toasting as it can burn very easily. Remove from oven and let cool. Pour into a large bowl and stir in popped rice. Divide mixture into serving bowls and top with apples and raspberries. Serve with rice milk.
Leek and Garlic Omelet
Serves 2
This low glycemic omelet is a quick and easy way to get some allicin into your diet. It has been hypothesized that allicin, found in both leeks and garlic, could be helpful for people with dandruff as it has strong anti-fungal properties. Ingredients
4 egg whites
2 whole eggs
4 tbsp water
Salt, to taste
Freshly ground black pepper, to taste
3 tbsp leeks, chopped
1/2 tsp garlic, minced
Cold pressed extra virgin olive oil

Directions
Beat eggs, water, salt, and black pepper together in a small bowl. Grease a non-stick frying pan with a paper towel dipped in extra-virgin olive oil. Add leeks and garlic, and cook for about 3 to 5 minutes or until tender. Add cooked leeks and garlic to egg mixture. Pour mixture back into oiled frying pan and cook until done. Transfer omelet onto a plate and garnish as desired.
Original Bircher Muesli
1 serving
Muesli was developed as a health food by the Swiss Physician Maximilian Bircher-Brenner towards the end of the 19th century. This is the original muesli recipe Mr Bircher-Benner recommended to his patients. Ingredients
1 tbsp rolled oats
3 tbsp water
1 tbsp sweetened condensed milk
2 tsp lemon juice
1-2 apples (including skin)
1 tbsp hazelnuts or almonds, ground

Directions
Combine oats and water and refrigerate overnight. Soaking improves the nutritional value of oats as it allows enzymes to break down and neutralize phytic acid, a compound that can block the absorption of many minerals in the intestines. Grate apples. Add them, together with sweetened condensed milk and lemon juice, to soaked oats. Stir well. Sprinkle with almonds or hazelnuts and serve.
Stir-Fried Asparagus with Quinoa Noodles
Serves 4
Not only is this asparagus dish downright delicious, it also makes an excellent anti-dandruff meal because it is loaded with B vitamins, which have been shown to help reduce dandruff. It has been suggested that inefficient metabolism of carbohydrates and fatty acids could be one of the underlying causes of dandruff, and B vitamins have long been known to play a crucial in metabolic processes. Ingredients
2 bundles asparagus, washed, trimmed, and cut into bite-size pieces
1 tbsp olive oil
3 tsp fresh ginger, minced
2 garlic cloves, slivered
1 tbsp soy sauce
1/2 tbsp sugar
3 1/2 tbsp vegetable stock
12 oz dried quinoa noodles

Directions
Heat oil in a wok and stir-fry ginger and garlic for a minute or two, then add asparagus. Combine soy sauce, sugar, and stock in a small bowl and pour over asparagus. Simmer until asparagus is tender, about 3-5 minutes. Cook noodles according to package directions and serve with stir-fried asparagus.
For more information on nutrition and dandruff, see also: