Weekly Smoothie Challenge
Green Power Smoothie with Kale, Kiwi and Banana
2 Servings
Don't be intimidated by the kale in this vibrant green smoothie – the pineapple juice, banana, green grapes and kiwi do a great job masking the somewhat earthy flavor of kale! Before throwing the grapes and kale into the blender, make sure you rinse them thoroughly as both kale and grapes typically contain high levels of pesticides. Rinsing grapes also helps reduce your exposure to sulfur dioxide, a fungicide that is sprayed on grapes after harvesting and that has been shown to trigger allergic symptoms and asthma in some people.
Note: The substitute suggestions in the Tweak It! box at the bottom of this page ensure that with small tweaks to the basic recipe, you can create a new culinary sensation for every day of the week!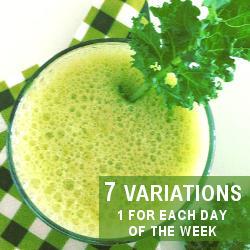 Ingredients
Half a banana, peeled
1 kiwi
1/2 cup shredded kale
1 cup organic green grapes
1 Tbsp sunflower seeds
Scant 1/2 cup crushed ice
1/2 cup additive-free pineapple juice
1 cup filtered water
Directions
Peel the banana and kiwi, and rinse the kale and grapes thoroughly under cold running water. Don't bother deseeding the grapes – grape seeds are edible, and they are good for you, too! (Plus, most high-quality blenders will break the seeds into tiny pieces, so you won't even notice them.)
Place the banana, kiwi, kale, grapes, sunflower seeds, crushed ice, pineapple juice and water in a large-capacity blender, and secure the lid. Blend until smooth and creamy.
If the smoothie is too thick for your liking, add a little bit of water and blend a few more seconds. Pour into glasses and serve immediately.
Tip: Enjoy a slightly different version of this Green Power Smoothie every day the rest of the week by replacing the grapes in the original recipe with the substitute ingredients listed in the Tweak It! box below (see Days 2 to 7).
Tweak It!
Day 1
Day 2
Day 3
Day 4
Day 5
Day 6
Day 7
1 cup
grapes
1
orange
1
pear
1
green apple
5 oz
papaya
5 oz
fresh pineapple
5 oz
fresh kumquats
Cook's Note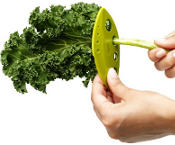 If you frequently whip up kale smoothies, be sure to check out this BPA-free kale trimmer. Designed by the Seattle-based Chef'n, this ingenious little tool helps you devein curly kale and other leafy greens as well as herbs in a snap! All you have to do is slide the stem through one of the eight holes, and this nifty tool will strip the leaves off in a fraction of the time it would take to separate those leaves by hand. A must-have for all kale fans, this small but mighty tool is available through Amazon.com

and Amazon.co.uk

.